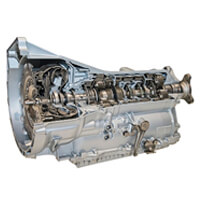 How to prepare an engine or transmission for
proper freight shipment?
Shipping a car engine is easy if you follow some simple rules. The most important factor is preparedness and having the correct materials on hand. Shipping a car engine or transmission following the rules below will help make your engine shipment a success. Both engine and transmissions are shipped every day using freight services like Freight-Specialist offers.  We have put together a small suggestion list below.
Shipping a car engine or transmission? See the suggested materials to have on hand. 
• A standard 48 x 40 skid or pallet
• Shrinkwrap
• Cardboard
• (2) 2×4 pieces of pine wood (cut to length) for support and bracing
• Wood screws
• Metal banding or strapping
• Helper or engine hoist to set engine or transmission on a pallet

Shipping your engine using a freight service company
• Make sure that engine or transmission is drained of all fluids.
• Place engine or transmission on the pallet as centered as possible
• Place the 2×4 pine woods that we cut to size on both lateral sides of the engine or transmission
• Screw down those supports into the pallet
• Generously apply shrink wrap to the pallet and make sure that it is covering all parts of the engine
• Place  cut  pieces  of  cardboard  to  be  used  as  edge guard where the metal  strapping  will come in contact with engine or transmission
If you follow these steps your engine shipment should arrive intact and damage free.  will make your engine shipment a lot safer and will be on your way to fixing your car. Once the engine or transmission is on the pallet it is time to get a free freight quote if you haven't done so already. Most car engines or transmissions will ship using a freight class of 85, but please have Freight-Specialist assess your particular shipment. Please advise them if you will have your engine shipped to a residential or business address or you may want to pick it up at a nearby terminal.