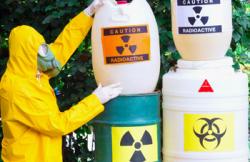 Why must hazmat freight shipments be handled or prepared differently?
When it comes to hazardous shipments there is a lot to know and I don't intend to cover all the details involving a hazmat freight shipment.
Getting the right MSDS information on your shipment
Before we get started let me stress this point again: not every hazmat freight shipment is the same. Simply because you choose the hazmat accessory on a drop down list of accessories from your LTL provider and are assessed the hazmat charge is not enough. The shipper or manufacturer of any substance, chemical or product deemed to be a hazardous good must comply and provide a material safety data sheet or MSDS; on the MSDS it will give the trucking company specific information regarding the material being shipped. The UN number, the division number and the grouping are all important in classifying your hazmat shipment and most importantly lets a carrier know how your shipment must be handled.
Make sure you know what the UN number for your shipment is
On the MSDS of utmost importance is the UN number which is a four digit number that categorizes all hazardous substances. UN numbers start at UN0001 and go to UN3506. The UN number is very important in identifying the type of properties for that particular commodity. For example a particular chemical may be manufactured in different states such as a liquid or a solid and because there are two forms in which this chemical can come in, there two distinct UN numbers to identify and label each properly on the bill of lading. This can all be confusing for the shipper and is not made any easier since there are nine classes with not less than sixteen divisions to categorize a hazmat shipment correctly.
Labeling and identifying a hazardous LTL shipment properly is very important as there are strict DOT rules that govern the transport of hazardous shipments. Hazardous materials shipments can be downright dangerous, if not deadly, when not handled properly. Drivers must have an endorsement on their license in order to haul hazmat freight shipments. The reason drivers have to be endorsed is because there are special precautions that must be taken when handling a hazmat freight shipment and drivers must be trained to handle them properly.
Appropriate documentation and preparation can be life saving
Proper documentation is required by the DOT for any hazmat shipment to be allowed to travel from point A to point B. Shippers may find that the extra steps in preparing a hazmat shipment is a hassle but when accidents happen and minutes count it is important for the fire department to know what type of hazmat is loaded on a truck. Is it just flammable, is it a gas or can it be a 1.1 grade explosive? This bit of information can save lives in an emergency situation.
With these tips you should have a safe and pleasant experience using a freight service company such as Freight-Specialist. We recommend that you consult with us prior to having your shipment scheduled for pickup if you have any doubts or concerns.