Georgia's Freight Economy
Georgia has a large manufacturing sector that produces and ships various commodities. As a result, requiring a myriad of trucking transport services. Georgia's biggest city, Atlanta, is a major freight trucking hub. A recent freight and logistics reported that 18% of Georgia's GDP is due to the freight shipping industry. Below we have compiled Georgia's most shipped freight along with the types of trucks and modes available. From flatbed shipping to rail freight transport, we look at the numbers that make freight such an important part of Georgia's economy.
Freight Shipped In Georgia By The Numbers
As shown below, mixed freight is Georgia's most shipped commodity within the state. Undoubtedly, Georgia consumers have a myriad of needs. Of these commodities, the vast majority, over 60% of are shipped by freight transportation companies. Thus, over the road trucks are the leading method of transport within Georgia.
Mixed Freight is Georgia's most shipped commodity
Motorized Vehicles account for $21 million of commercial sales
Electronics & Consumer Goods account for $17 million in total sales
Machinery accounts for $15 million of total sales
Textiles and leather combined also account for $15 million of total sales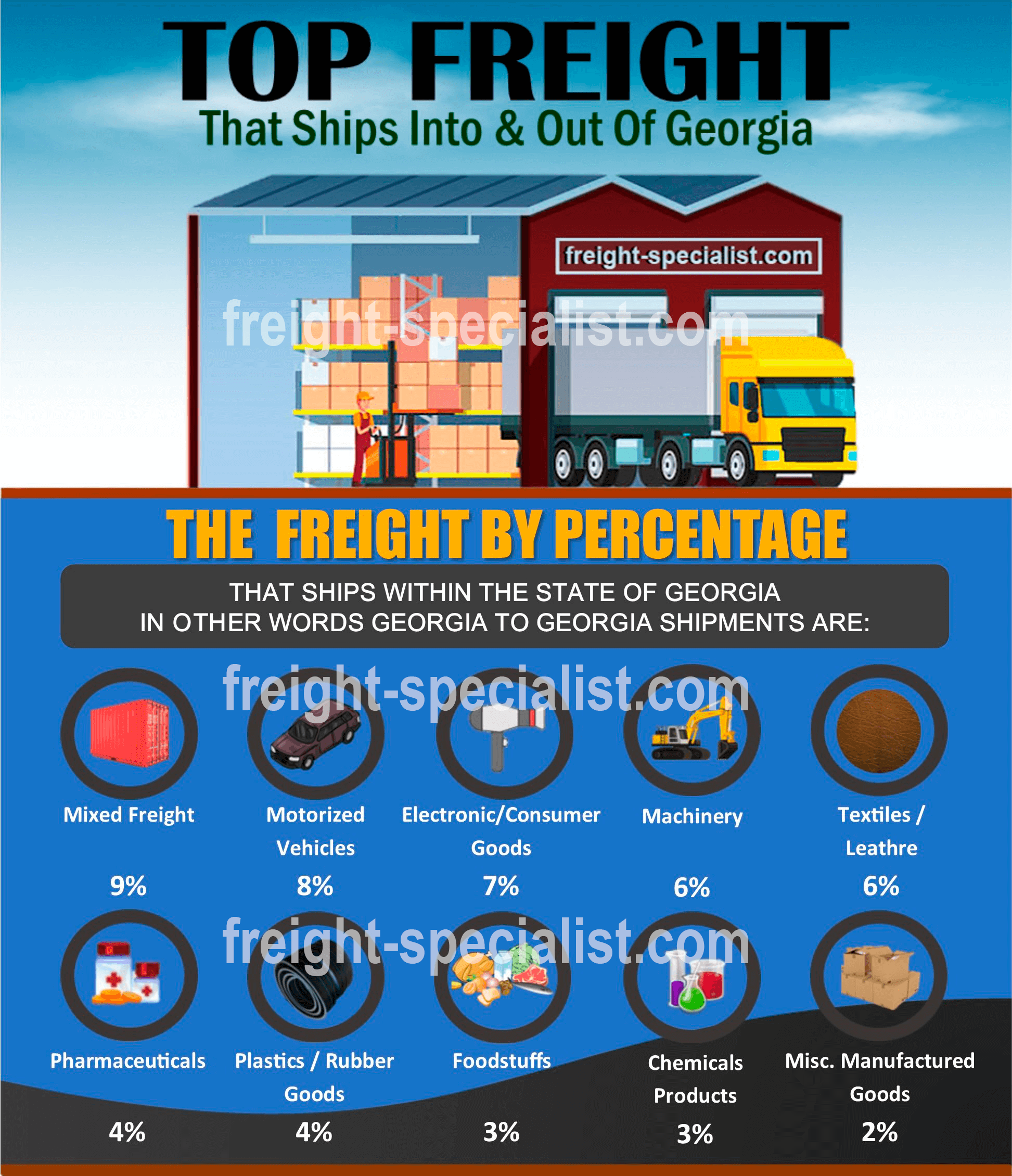 Freight Shipped Out Of Georgia By The Numbers
Unlike the data for freight shipping inside Georgia, Georgia's outbound shipments reflect differently. Georgia's most shipped commodity for outbound truck freight shipments is motorized vehicles. Hence, this should come as no surprise since Ford, General Motors, Honda, and Kia all have manufacturing facilities within Georgia. Mixed freight comes in as the second most shipped freight from Georgia. It is no wonder that truck shipping rates in Georgia are steady and extremely high in the summer, where produce shippers compete as well.
Motorized vehicles sales shipped to other states account for $43 million of total sales shipped.
Mixed Freight accounts for $28 million of total sales shipped
Electronics accounts for $26 million of total sales shipped
Machinery account for $25 million of total sales shipped
Pharmaceuticals account for $22 million of total sales shipped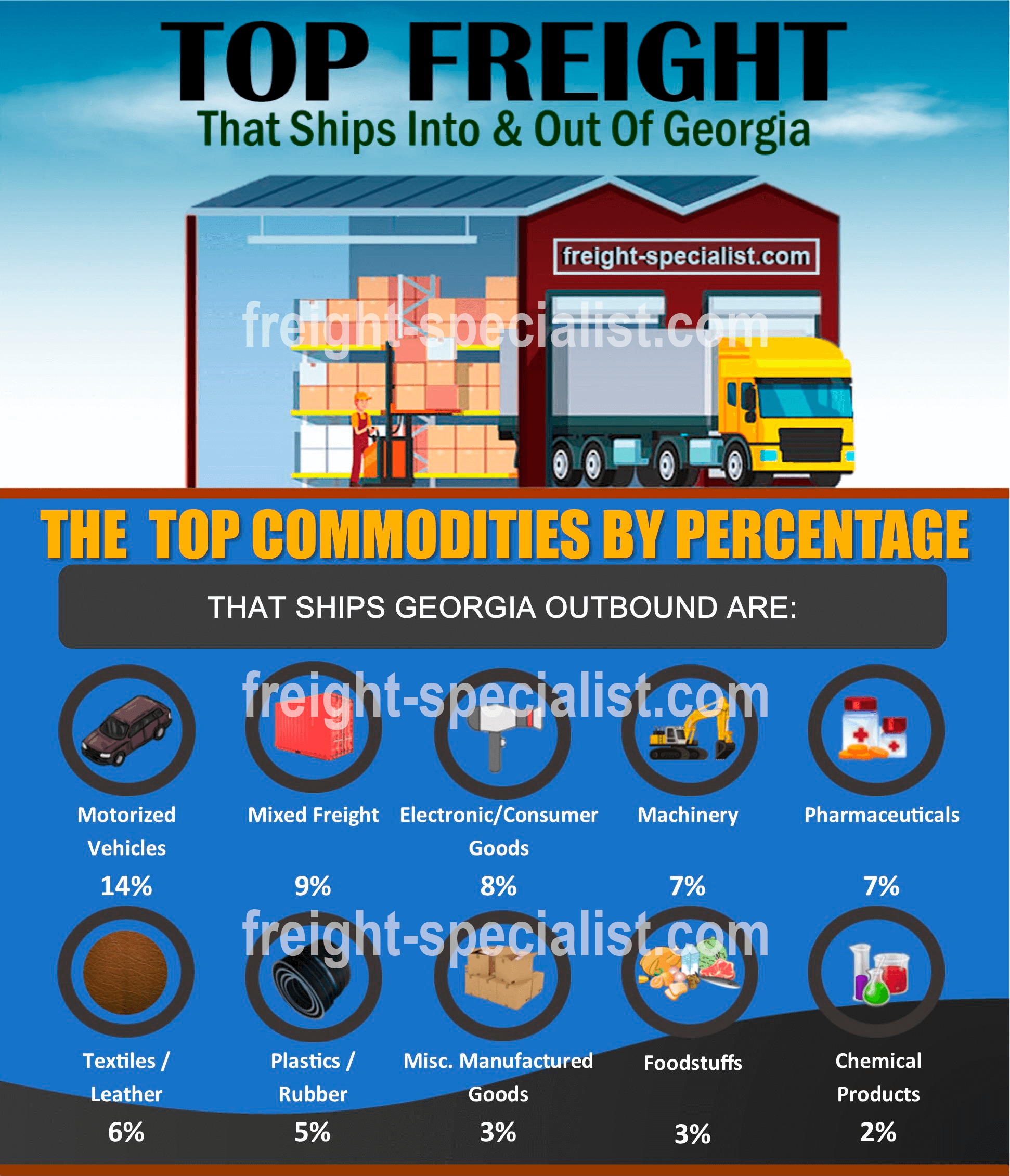 Freight Shipped Into Georgia By The Numbers
Interestingly Georgia's need for motorized vehicles and their related parts is due to the large presence of motorized vehicle production in the state. Another area of particular interest is the large need for pharmaceuticals, a clear indication of the biotech industry in Georgia. Medicine and their counterparts must often be shipped in temperature-controlled trucks called reefer units. However, electronic consumer goods remain the same for the three different studies done on freight activity involving Georgia.
Motorized Vehicles account for $32 million of inbound freight purchased.
Pharmaceuticals account for $26 million of inbound freight activity
Electronic consumer goods account for $24 million of inbound freight shipments
Plastics, a category not seen previously in the top 5, accounts for $20 million
Machinery accounts for $19 million of inbound freight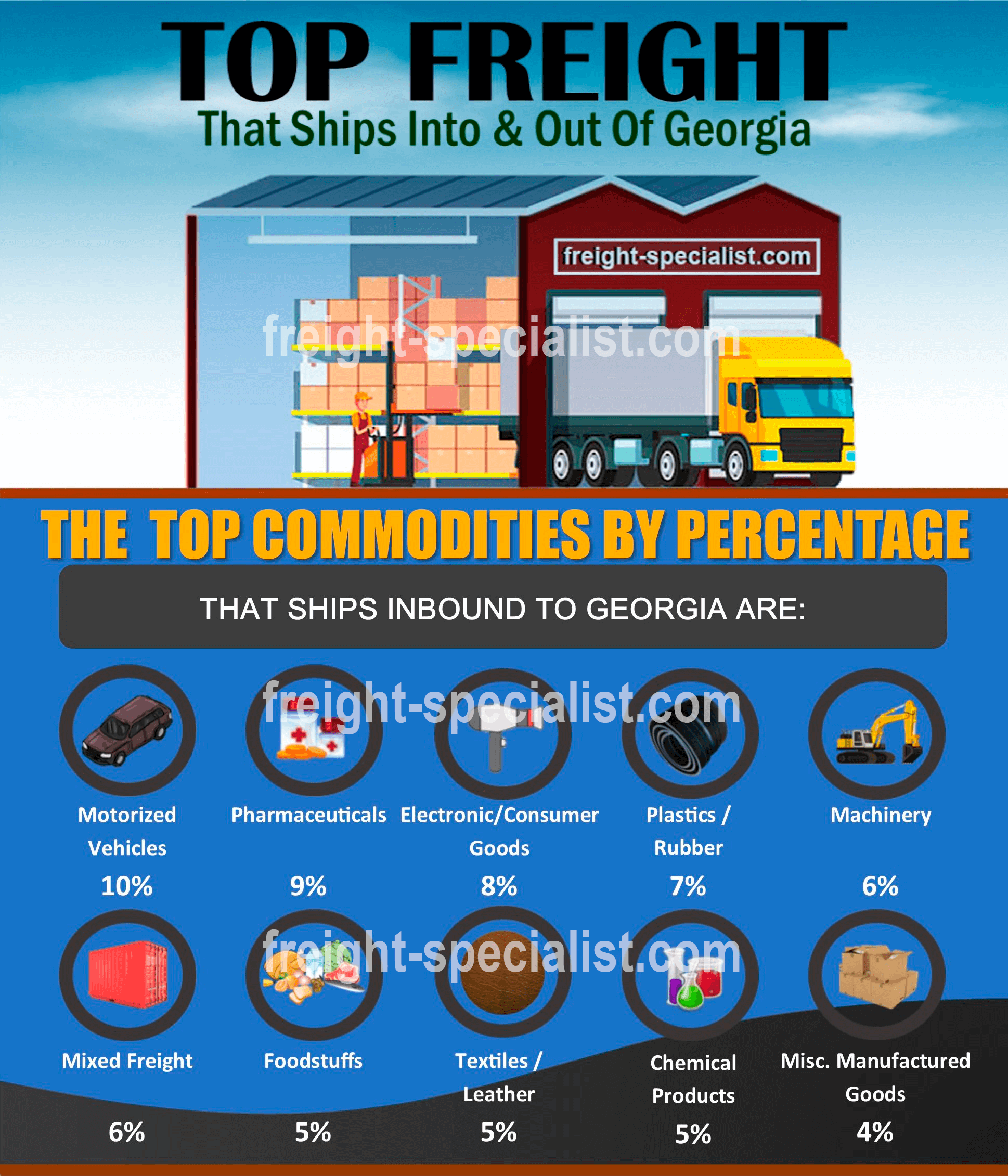 Which States Trade The Most With Georgia?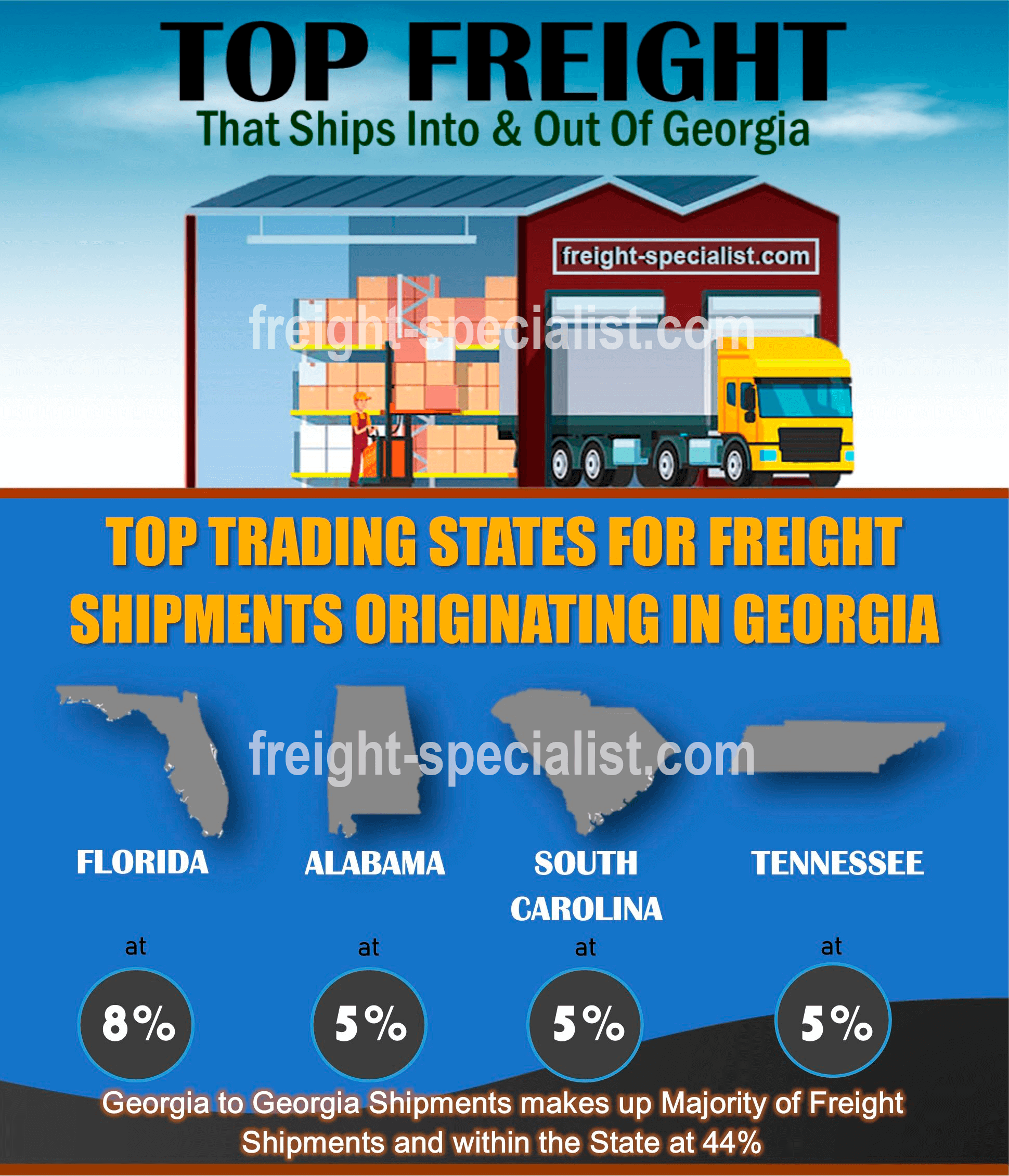 Clearly, the state of Florida is Georgia's largest trading partner. Hence, making Florida an important state for Georgia's manufacturing sector. Similarly, Florida businesses prosper from having Georgia within the HOS driving limit. This is a winning combination that is sure to increase exponentially in the coming years.
Truckload Shipping From Georgia
Close to 25% of truckload freight shipping occurring from the state of Georgia is to neighboring states. For the most part, most areas, except for South Florida, can be serviced within 1 day. This data is right in showing that most truckload shipments are under 750 miles. To conclude, if you are located in another state, do not worry since Freight-Specialist will help you get the most competitive full truckload freight quotes every time.